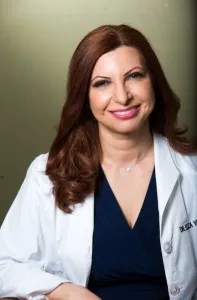 MEET DR. YAZICHIAN, DOCTOR OF DENTAL SURGERY
As one of the most accredited dentists in Burbank and the greater Los Angeles area, Dr. Eliza Yazichian prides herself on providing patients with the highest level of care in a compassionate, comfortable setting. Dr. Yazichian is dedicated to meeting each patient's aesthetic and health goals – an extraordinary level of care that has led to her selection by the Consumers' Research Council of America as one of the top dentists in America for the past 6 years in general, cosmetic, implant and laser dentistry.
Dr. Yazichian offers a detail-oriented approach to ensure the best aesthetic and functional outcomes for her patients. Her particular interests lie in laser treatments, root canal therapy, veneers and the use of the newest bone regeneration techniques. But, most of all, she enjoys bringing good dental health and a smile to the faces of her patients.
An active member of the community, Dr. Eliza visits local schools from time to time to educate children on the importance of good dental hygiene. She lives in Los Angeles and loves to bake, play classical piano and listen to opera in her spare time. As a health care provider, she knows the importance of exercise – a favorite of hers is Pilates!
Dr. Yazichian received her Doctor of Dental Surgery degree from Yerevan State Medical University in Armenia, and then went on to fine-tune her skills at UCLA with courses in Implantology, occlusion, periodontics and a mini-residency in endodontics.
A strong belief in the benefits of state-of-the-art technology and the latest techniques allows Dr. Yazichian to provide an elevated level of care to her patients every day.
As the founder of Smiles on Olive in 2007, it is important to Dr. Yazichian that we remain independent – not tied to any larger corporation. This dentist-owned model allows us to focus 100% on your care.
Active Memberships:
American Dental Association (ADA)
California Dental Association (CDA)
San Fernando Valley Dental Society (SFVDS)
When you visit Smiles on Olive, you are treated like family. Please call us at (818) 848-0078 to set up your first appointment or consultation.